I Guess I Can Respect This....But I Still Mad Each of those MEGA RICH Celebrities that are in this don't make Million Dollar Donations...I Said it before and I'll say it again Every artist there if they wanted 2 could rebuild a new Haiti with-in a week! Shoutout to Wyclef!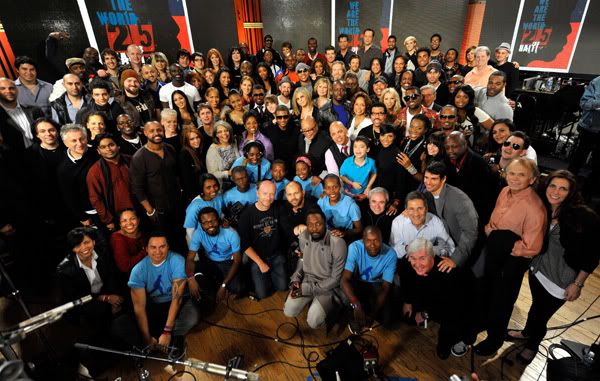 Kanye West, Drake, Celene Dion,
Lil Wayne, Wyclef, Jennifer Hudson, Gladys Knight, Akon, Snoop, Pink,

Mya, Brandy, Robin Thicke, Tyrese, Trey Songz, Jamie Foxx, Toni Braxton, Kid Cudi, LL, Usher, Keri Hilson
and so many others....Quincy Jones and Lionel Richie Are Re-Creating The Song Once Again ...I Wish The Big Homie Was There To See This And Be Involved! RIP....CAN'T WAIT TO SEE HOW THIS 1 TURNS OUT!


Original Cast Of Stars!
F0r More Pics And Videos Check Out
MTV
they have about 10+ Videos!